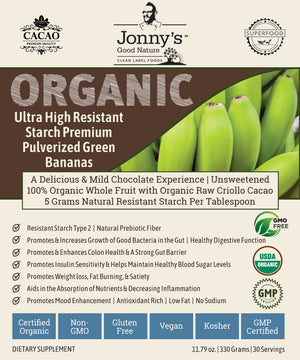 Jonnys Good Nature | Clean Label Foods
Organic Chocolate Ultra High Resistant Starch Premium Pulverized Green Bananas | Made With 100% Organic Criollo Cacao | Free Shipping Inside Continental US
Sale price Price $23.95 Regular price $24.49
NOTE: Images Corresponding To This Version (Chocolate), Including Supp. Facts Panel, Found Below Shipping Info. @ The Bottom. Just Click On The First One & Swipe Right!
A Delicious & Mild Chocolate Experience! Made With 100% Organic Criollo Cacao Nibs. Unsweetened, So That You Can Add It As Is, Or Use The Sweetener of Your Choice. This Is The Same Great Product That People Have Come to Know, Trust, & Love; Except Now With The Flavor & Benefits Of Organic Raw Criollo Cacao! Includes 30 Servings. (Will Be Available Around The Time The Organic Version Is Back In Stock)

On Average, People Used to Consume Between 30 & 50 Grams of Resistant Starch Each Day. However, With the Introduction of Processed Foods into Our Diets, Daily Consumption Has Fallen to an Average of Only 5 Grams A Day Around the World, & Even Less for Those Who Practice a Low Carbohydrate, Keto, or Paleo Diet.
Green Banana Flour is the Best Source of Resistant Starch from Food, & Jonnys Good Nature Contains Among The Highest Levels of Natural Resistant Starch In Any Product Currently in the Marketplace Today. 

Resistant Banana Starch is a Whole Food, 100% Natural, Less Processed, & More Nutritious than Many Other Forms of Resistant Starch, Such as Raw Potato Starch, Inulin, & FOS for Example.
Additionally, it Will Not Cause Digestive Side Effects (i.e., gas, bloating, etc.), as is Often Reported by Those Who Consume Fast Digesting Fermentable Fibers (Resistant Starch).  
JGN is Only Made From Fresh Picked, Whole, Peeled Organic Green Bananas. These Bananas Then Undergo a (Special) Natural & Delicate Drying Process Which Allows Them to Retain a High Quantity of Natural Resistant Starch.

ABOUT NATURAL RESISTANT STARCH [RS-2]

Found Within Green Bananas, There Is a Naturally Occurring Slow Digesting Carbohydrate Called Resistant Starch. It Gets its Name Because it Literally Resists Digestion, Making its Way Through the Small Intestine & Eventually Ending Up in the Large Intestine Where it Selectively Stimulates the Growth & Activity of Beneficial Bacteria (such as Ruminococcus bromii, Akkermansia, & Bifidobacteria), & Reduces the Prevalence & Growth of Potentially Harmful Bacteria (such as E. coli). This Resistant Starch is Known as a "Prebiotic" Dietary Fiber & is Becoming Well Known as a "Good Carbohydrate" for its Strong Health Benefits.
BENEFITS:
Resistant Starch Type 2 | Natural Prebiotic Fiber
Promotes & Increases Growth of Good Bacteria in the Gut | Healthy Digestive Function
Promotes & Enhances Colon Health & A Strong Gut Barrier
Promotes Insulin Sensitivity & Helps Maintain Healthy Blood Sugar Levels
Promotes Weight loss, Fat Burning, & Satiety
Aids in the Absorption of Nutrients & Decreasing Inflammation

Promotes Mood Enhancement | Antioxidant Rich

100% Organic All-Natural Whole Fruit with Nothing Added
Low in Sodium & Fat
CERTIFICATIONS:
Certified Organic
Non-GMO Project Verified

Gluten Free
Vegan
Kosher
Keto & Paleo Friendly
GMP Certified
SHIPPING:
Jonnys Good Nature Offers Free Shipping On Every Purchase Inside The Continental United States, & Will Offer Shipping Credits to Those Who Would Like to Place an Order From Outside of The Continental USA, via Brief Requests Sent to Jonnys@jonnysgoodnature.com (for an Equivalent Amount).